There are times when I love shopping with Munchface. She notices the most random (and sometimes totally awesome) things. Some examples of her random awesome-fantastic-where-has-this-been-all-my-life finds include: Mickey cheese shapes, individual cupcake holders (with PLASTIC icing-shaped caps), ice cream scoopers that are shaped like animals and the new Goldfish flavors... She always makes shopping an adventure (even when she picks out clothing for her IMAGINARY younger sibling)... During a recent trip to our neighborhood Walmart, she found perfection in a tube:
I HAD to have some... and 1 box of this:
To create these OREO WHOOPIE PIES:
Here's how I made them:
1. Combine 2 eggs, 1 stick of softened butter and the cake mix
2. Spoon cookies onto sheet (they spread so be sure to leave enough space)
3. Bake on 350 for 10-12 minutes
4. Let cookies cool for 10 minutes
5. Flip one cookie over and squeeze the Oreo icing on the bottoms-up side (I let Z put her Mardi Gras colored sprinkles on top of the icing at this point)
6. Sandwich another cookie, of similar size, on top
7. Squeeze the two together so the icing is evenly distributed to the edge of the sandwich (Munchface LOVES this part)
8. Pour your milk, toast your glasses and enjoy your easy Oreo whoopie pie :)
Sidenote: Hubbs started a diet and came home as soon as we finished icing our cookies. I whispered to Munch that daddy was on a diet and she stopped chewing to tell me, "that is so sad for him" *CLICK*
Yes, yes it is sad for daddy!
I'm ALWAYS looking for quick kid-friendly recipes. Do you have any to share?
Linking up: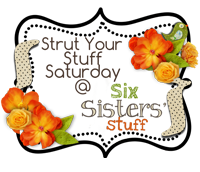 This post was featured in
Baker's Delight
via twitter... Social Media is amazing, isn't it?!